Enzoic for Active Directory
Our Active Directory solution follows the NIST 800-63 password guidelines with an easy-to-implement plugin that compares employee passwords against cracking dictionaries; exposed and commonly used passwords.
Continuous password protection helps prevent ongoing use of compromised passwords and remediation is fully automated.
With cracking dictionaries and exposed credentials, it is easy for bad actors to attack Active Directory.

Enzoic enhances existing password policies so they automatically restrict the selection of commonly-used, expected, or compromised passwords. It then automates continuous password monitoring to ensure those passwords don't become vulnerable later. It is an enhanced password policy enforcer that also checks for leaked passwords.

Enzoic aids with NIST 800-63b requirements for real-time detection of unsafe passwords and eliminating the need for periodic password expiration.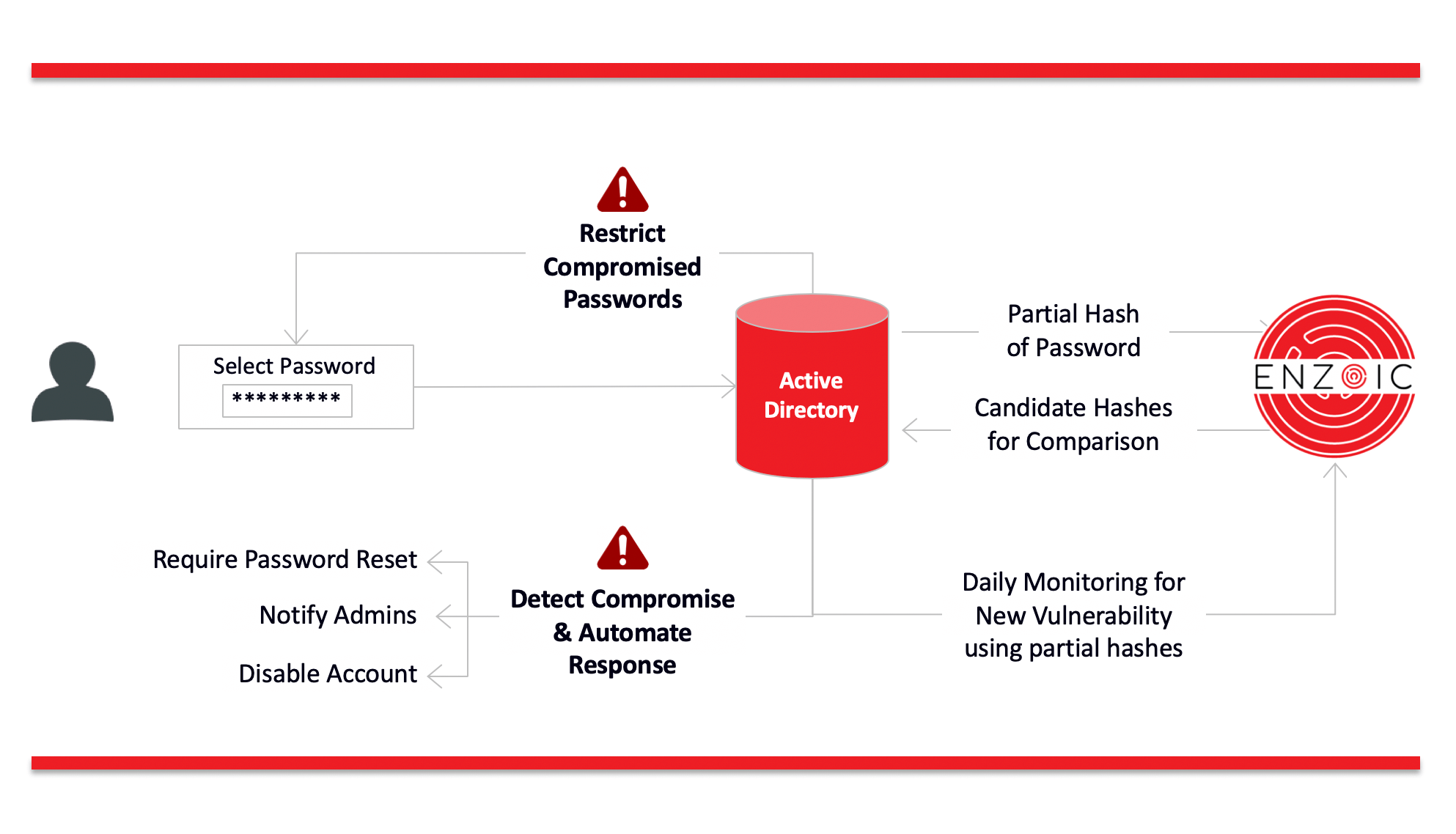 How it works:
Enzoic's simple plug-in uses a standard password filter object to create a new password policy that works anywhere that defers to Active Directory, including Azure AD and third-party password reset tools.
When a new password is being created, a partial hash is evaluated against Enzoic's massive, continuously updated database.  A list of candidate hashes is returned for a local comparison and no data is stored by Enzoic.
If a password becomes unsafe, Enzoic automates remediation with configurable actions that include requiring password reset on next login.
How Enzoic for Active Directory Can Help
Harden new passwords
Enzoic enhances your password policies so they automatically restrict the selection of any password that was previously compromised, helping users avoid unsafe password according to NIST guidelines. Works with existing password policies, password policy enforcers and password policy filters.
Reduce the attack window
As soon as Enzoic indexes a new breach or cracking dictionary, your organization is immediately protected. Our data is sourced from the public Internet and Dark Web and is updated continuously by proprietary automated processes and human threat intelligence.
Check securely
Our services use a partial hash for your security. This allows you to check whether a given password is known to be compromised, without the exact password or hash leaving your environment.
Protect your employee accounts from stolen credentials with Enzoic