Enzoic for Active Directory Lite
A free password auditing tool for Active Directory.
See your domain's password vulnerabilities in seconds.
Prevent Attackers from Hacking Your Organization. Check Your Passwords with Enzoic's Free Password Auditor.
---
New data breaches expose user credentials every day causing password audits to be more difficult. These passwords are quickly fed into hackers' cracking dictionaries and changing which passwords you need to keep out of your organization.
With Enzoic for Active Directory Lite, auditing for compromised passwords is quick and easy. By using Enzoic's proprietary database of 7+ billion exposed passwords, Enzoic's password auditing tool quickly scans your Active Directory environment and identifies:
common and weak passwords,
passwords found in cracking dictionaries,
actual passwords previously breached and exposed online
reused passwords
Get a quick snapshot of your domain's password vulnerabilities in seconds.




A free password auditing tool. Just download and go. No key required.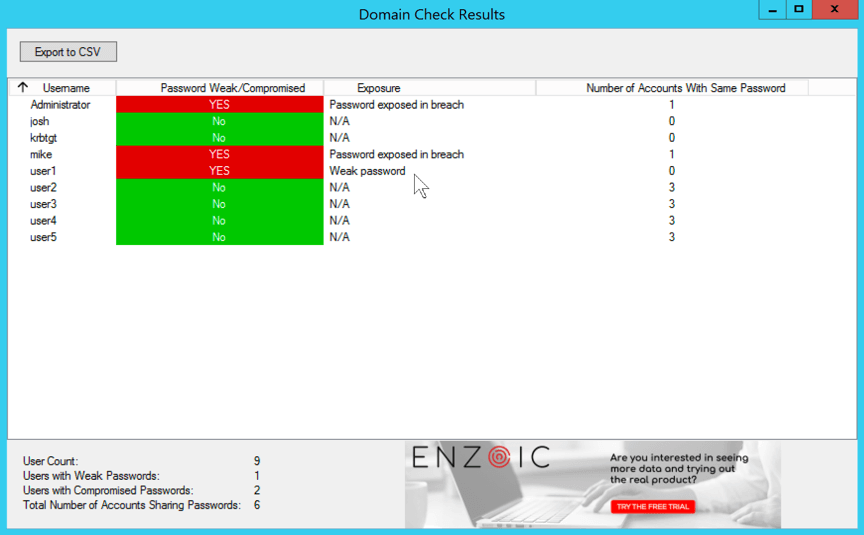 Traditional algorithmic complexity is no longer considered essential to password strength. NIST password guidelines now want you to screen for commonly used and compromised passwords.
Enzoic quick and free password auditor pinpoints which user accounts in Active Directory have weak, compromised or reused passwords.
---
Want more information? Read more about Active Directory Lite and how it helps audit for compromised passwords.
Active Directory Lite FAQs
---
Guard Against the Use of Pwned Passwords
---
The use of pwned passwords, or passwords that have been exposed in data breaches, significantly increases security vulnerability. Cybercriminals can easily access compromised credentials via the Dark Web to infiltrate corporate accounts.
Educate employees with best practices
Adopt additional authentication measures
Check for pwned passwords and more

Guidelines for Stronger Passwords
---
Stronger passwords mean that users are keeping themselves safer online. If users are safer online, your organization stays safer.
Make the password long. At least 10 characters, but we recommend more
Use a password lockout policy. An effective method against brute-force hacking.
Reference blacklists of previously leaked/breached passwords

NIST Password Guidelines
Verify that passwords are not compromised before they are activated and monitor them on an ongoing basis.
Read More
Enzoic's password auditing tool provides a great baseline for assessing password vulnerability. Get the next level of compromised credentials protection and try the full Enzoic for Active Directory.