Password Policy for
Hospitals and
Healthcare Providers

Automated Password Monitoring for Hospitals and Healthcare Providers in Active Directory
---
Enable real-time employee password policy for hospitals and healthcare providers with daily password auditing and automated remediation.  With compromised password detection, a custom password dictionary, fuzzy matching with common character substitutions, and continuous ongoing monitoring; healthcare organizations can eliminate vulnerable passwords in Active Directory without a lot of friction for clinicians and staff.
Many hospitals and health services are monitoring for weak, commonly-used, expected, and compromised passwords in Active Directory. They check the password at the time it is created or reset to make sure it is safe.  Then they continue to monitor the password daily against a real-time compromised password database to ensure it doesn't become unsafe while it is in use. They require an easy way to keep accounts safe without adding a lot of complexity to user authentication.
Read the White Paper
---
ENZOIC FOR ACTIVE DIRECTORY
Daily Screening: Continuous exposed password filtering

New Exposures: Detects if a safe password becomes exposed

Automated: No extra manual work

Insight: Dashboard and SIEM logging

Quick: Checks in milliseconds

Quiet: Does not impact all employees, just employees with bad passwords

Easy to install: Takes a short amount of time to install

Compliant: Aids with

NIST 800-63b, NIST 800-171, HIPPA,

and

HITRUST
Try Enzoic for Free
WHY HOSPITALS AND HEALTHCARE PROVIDERS ARE TRUSTING ENZOIC FOR ACTIVE DIRECTORY
---
It follows NIST password guidelines for weak, commonly-used, expected and compromised passwords. It can aid in HIPPA & HITRUST compliance by ensuring users are using strong and unquie passwords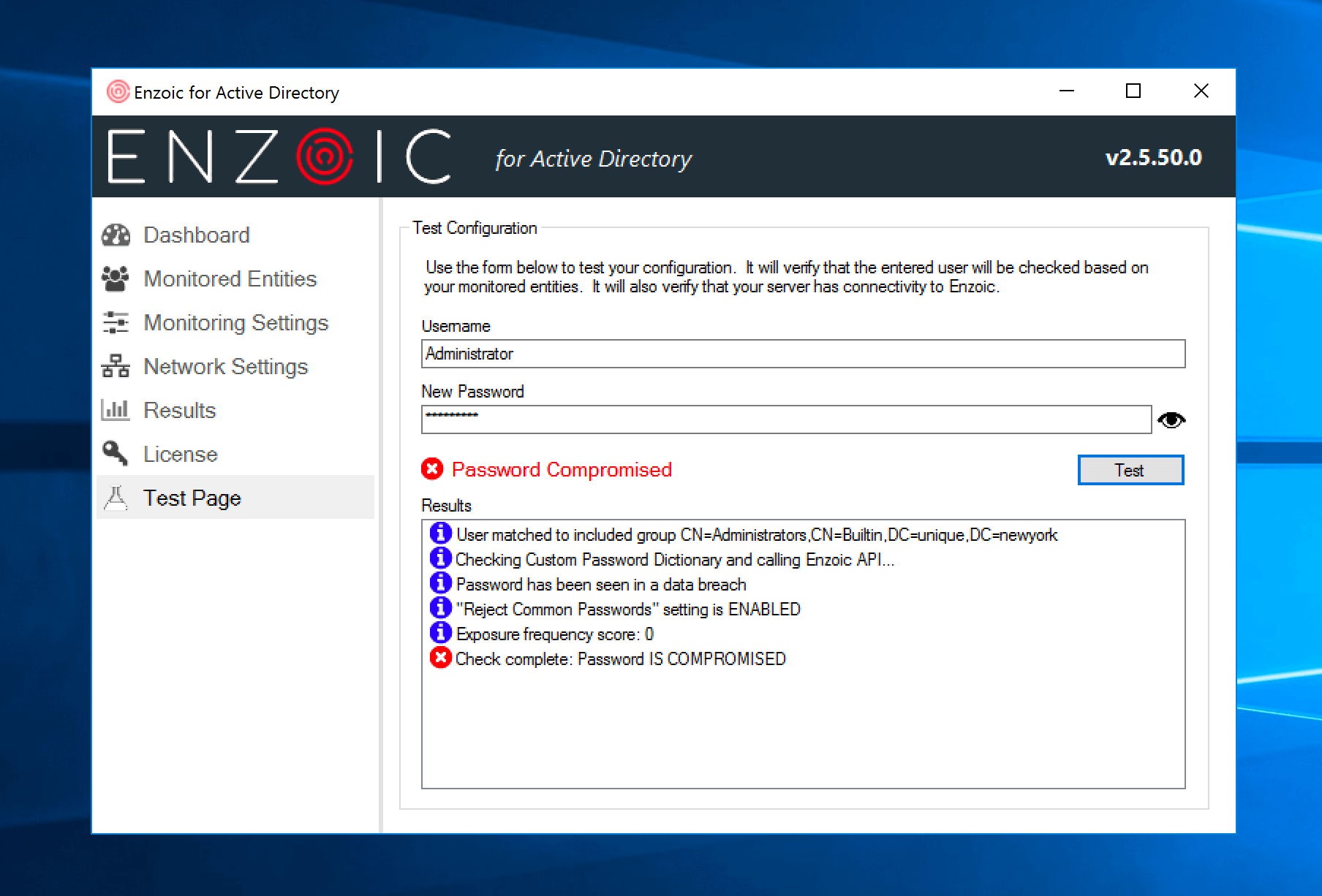 Safe passwords can become unsafe because of round-the-clock data breaches and leaks. Continuous password protection is an automated daily password check that alerts of weak or exposed passwords daily.